skip to content
New Patient Forms: (Feel free to download, print, and fill these out before your appointment)
All files are in PDF format and open in a new window.
Bay County Children's Dentistry Clinic
Contact Us
 

Fax

850-747-5660
 

Mailing Address

597 W 11th Street 

Panama City, FL 32401 

 
Hours of Operation 
Our dental clinic is open Monday through Friday from 7:30 am to 4:30 pm. We are located at 3518 E. 15th Street, Panama City.   
Available Appointments 
Dental appointments are scheduled as soon as possible or next available. However, we ask that you please remember that we have a large population in need of our services. To schedule an appointment during office hours, please call 850-872-4455, then select option 1, then option 2 or dial extension 9102.
Children's Dentistry Clinic 
DOH-Bay Children's Dentistry Clinic exists to serve children on Medicaid one year through twenty years of age in need of oral health services.  We take all types of Florida Medicaid insurances and Florida Medical Managed Care Plans.  Our professional and friendly staff are eager to provide your child's oral health care.
Broken Appointment Policy 
When appointments are made we are expecting you at that date and time. These appointments are made for your convenience. If you fail to keep an appointment you are depriving someone else of this time. It is your responsibility to keep track of your appointments. If you are unable to keep the appointment, please notify us at least 24 hours in advance. Failure to do so may result in changes to how your appointment can be rescheduled. For your convenience a 24 hour message service is available for you to call and leave us a message. If you need to cancel or reschedule your appointment after hours please call 850-872-4455, extension 4713
You can read more about our policy by reading our Broken Appointment Policy. (Clicking the link will open a new window to download the PDF document. The file size is 96KB)
Mobile Dental Unit 
Partnering for services with Head Start, Bay District Schools, Early Education and Care, contracted agencies of the Department of Children and Families, and Children's Medical Services to name a few has eliminated the need for children to be bused to neighboring counties for their oral health care.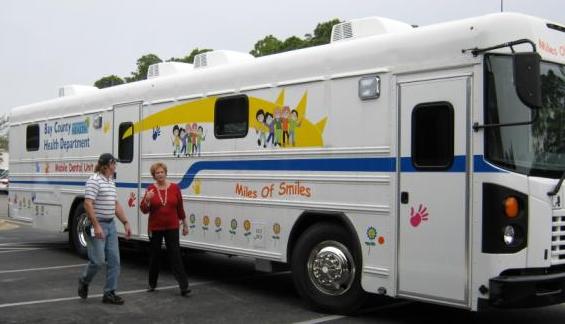 We accept most Children's Medicaid Managed Care Plans. 
Please contact our office is you have any questions about whether or not your insurance coverage is accepted.
Documents Required for Appointment 
Childs and Parent/Legal Guardian Social Security Cards
Legal Parent or Guardian Picture ID
Guardianship Paperwork if applicable
Additional Resources